The word barton is derived from Old English meaning ' barley farm or settlement'. Eastwrey Barton therefore means the farm on the East side of the River Wrey, close to the village of Lustleigh.
The name, Eastwrey Barton has been tracked back as far as a survey of the Manor of Lustleigh in 1615. Records show that Christopher Wills held the lease in 1659. Eastwrey Barton was owned and farmed by the Eastwrey branch of the Lustleigh Wills family for 250 years, until the first world war.
Nearby Lustleigh has largely been a rural farming community for hundreds of years. There is also a history of tin-mining for some centuries, initially being extracted from the River Wray watercourse in the 15th and 16th centuries. The first records of the nearby underground Pepperdon and Kelly tin mines were in 1797 where mining continued there until the 1950's.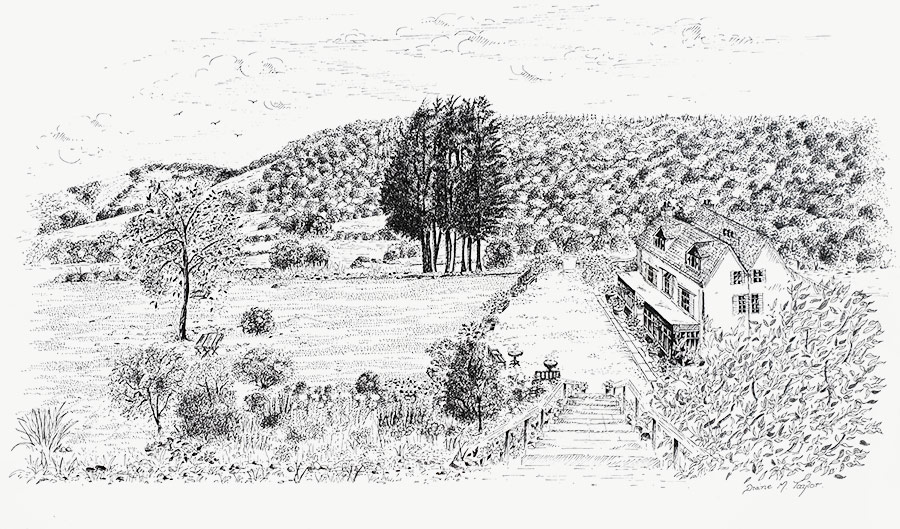 Easwrey Barton overlooks the Wray Valley where the course of the now disused Moretonhampstead branch railway line runs. Thomas Wills was one of the original directors when the railway was built in 1862-1866. It served the local community, supporting farming and mining as well as improving communications for Lustleigh and then provided for increasing tourism in the 1920's in Lustleigh, Moretonhampstead and beyond in Chagford.
Lustleigh Station featured as 'Baskerville' station in the 1931 Sherlock Holmes film, The Hound of the Baskervilles in 1931. The last passenger train was in 1959 and the railway age in Lustleigh came to an end. But this year the route has now been restored, providing a fine walking and cycling route between Bovey Tracey and Moretonhampstead.
Eastwrey Barton has been a small hotel since the 1940's and latterly a bed and breakfast which we took over in 2017.
​
Painted by: F. Foot - 1865